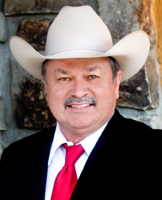 Nick Fowler CAI, President and Lead Auctioneer of Fowler Auctioneers, Inc. I grew up around the Cattle Auction business with my Dad David Fowler- long time owner of Sulphur Springs Livestock Auctions. Watching my Dad over the years taught me to give everything I do 100%, always be honest, treat everybody as you would want them to treat you, and provide the best service possible.
After high school, my Grandmother Lula Horn paid my tuition to Fort Smith Auction School in 1979. My Mom Sharon went with me even attending classes to make sure we brought home all we could to help me start the my auction business. You read about young auctioneers coming right of auction school and getting those great jobs- well, that didn't happen for me. I had my sites on estate sales and farm equipment but didn't take me long to find out the seasoned auctioneers had most of that sewed up.
I never gave up; moving from Texas back to Arkansas in the early eighties, I hit the long narrow road beating the bushes for a sale of any kind. Small sales is just all I could land and we were doing all of the work, 10 to 14 hours a day. Mainly I contracted the ones the other auctioneers in the area turned down. Some days I would auctioneer and write tickets, we couldn't afford a sale clerk. My Mom, Sharon, was my biggest supporter and still is today. She would write tickets for me most of the time never charged me a dime, always telling me what a great job I did which would make me want to try to go get another sale, soon we had multiple auctions even at times conducting several a week.
It was a struggle getting a business started and gaining the trust of the public as far as handling their prize possessions.  By the mid nineties it seemed I was on my way never to have to look back then in 2001 the 9-11 tragedy hit America setting a whole new pace for our business which was slow.
One day a beautiful young lady came in my office selling radio ads, that which was a God sent, we were soon married and today 2016 she has been right by my side all the way. I have to say I have had some good friends help me, one of which was my auction school instructor in 1979 the late James E. Wilson. He mentioned to his Son Joe Wilson in 2002 that he should let me to help them some time. Joe knew I wanted to keep my auction business and didn't let me help them for quite a while. One day I walked into an auction they were conducting in Hot Springs and Joe asked me if I wanted to ring a while and then he let me sell a while for the rest of the auction, I was a happy camper.
Joe invited my wife Rachel and I to go with he and Susan along with his Mom and Dad James E. and Miss Betty (which we thought the world of) to our first NAA (National Auctioneers Convention) in San Antonio TX. While we were on that trip, Joe said "Nick! You need to get your real estate license!"
When we returned home, I went to real estate school and did just that. I then set my sites on the auction method of marketing real estate. The first year that NAA took over the Arkansas Auctioneers Association, I competed in a lineup of approximately 25 great auctioneers and was named "2004 Arkansas State Champion Auctioneer" I give most of that credit to God and my wife for her encouraging words.
I Competed in the IAC in San Diego California where I didn't really do so hot but my again wife was there for me and said "You did great"! One of the judges, which was a high profile auctioneer Mr. John Corey, also said I did a good job. My friend Spanky Assiter which at the time was "Barrett Jackson's Lead Auctioneer" also had encouraging words, so, after that I wasn't so discouraged coming from that level of an auctioneer.
I enrolled in the three year "CAI" classes at IU in Bloomington Indiana graduating with the Class of 2008.
Later that year I saw an ad in the NAA Magazine, it read "World Class Events" was hosting a World Championship Auctioneers Contest in Branson MO. I said to my wife, "Honey, if they will let me enter, I believe I'll get in that competition" and went on to add "if I don't win we will still have a great time in Branson". Low and behold, very unexpectedly I was named "2007 Word all Around Champion Auctioneer" along with a nice belt buckle and a $10,000 check. Now I needed to practice practice practice and try to always be a pro.
Today, I am blessed to have the opportunity to hold numerous awards from Auctioneering, Ringman, Marketing plus many Diamond Award of Excellence from the Arkansas Board of Realtors. I'm very proud to be able lead one of the leading real estate auction companies in state of Arkansas selling multi millions annually with my wife Rachel, Mom Sharon, Daughter Bailey and our Auction Team by my side every step of the way.
This business didn't come easy and I value it highly and I have never forgotten where I started. Even today, I will still conduct a small auction for someone to help them and donate many hours to charity. Choosing the right auctioneer and the right auction company should mean everything to you. I will not send someone to discuss your possible auction plan with you, I will personally meet with you, that's a promise. I look forward to working with you all the way from start to finish.
Below are some of my achievements showing my level of enthusiasm for the auction business.
2004 Arkansas State Champion Auctioneer
2007 World All Around Champion Auctioneer
Served 2001-2003 Arkansas Auctioneers Association Board Of Directors
Now serving 2016-2020 on the Arkansas Auctioneers License Board
Awarded Diamond Award Of Excellence from the Arkansas Realtors Association 12 years in a row.
Thank you,
Sinserly, Nick Fowler, CAI
#Auctionswork/#NAAPro #CIA